| | | |
| --- | --- | --- |
| | | Taking Stock and Looking Forward: 2018-2019 |
---
What We Achieved in 2018
a regular, and high, publication frequency: 35 publications in 2018, ie 1 publication every 1.5 week.


significant contributions to external projects and promotion of the work of a few partners in the Gallo world:

the "Casson ez ouiriys" created with F. Lécuyer,
the Gallo / French vocabulary lists of the association Pouëvr' et Seu, transformed into Gallo / French and Gallo / English thematic lists,
a dedicated area to promote Mrs Limon and her pupils' works in her Gallo classes.



a strong presence abroad, virtual such as the Meme Challenge on the UNESCO's World Languages Day, and physical, especially with Gwenaëlle's visit in Ljouwert (Leeuwarden in Dutch) to represent Gallo at the Livingroom of Languages during Ljouwert's year as the European Capital of Culture.


an openness to other languages both in our publications and in our relationships.


and finally, a unique and large production with especially:

15 issues of the BD series "Pepper & Carrot",
15 original texts in Gallo, some with animations and small exercises on topics as varied as science, Brittany's history and others,
12 linguistic memo sheets with exercises to explain Gallo spelling via its etymological roots,
and of course, additions in our Great Multilingual Dictionary and Thematic Lists with Pouëvr'et Seu.



our production has been followed by more than 28,280 visits in 2018! Thank you all for your support!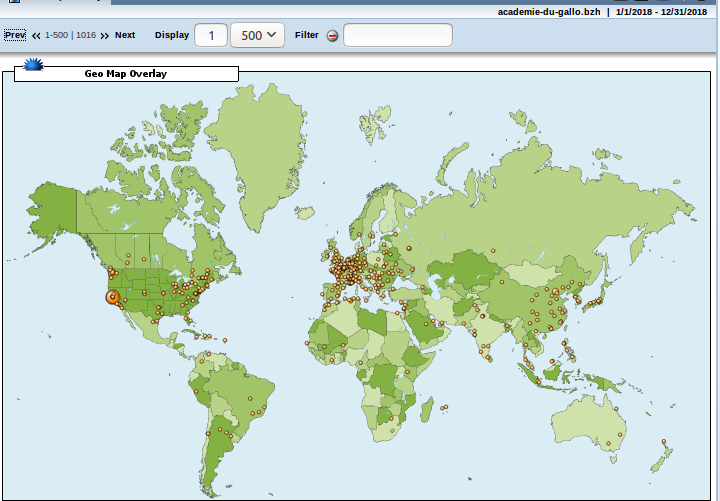 What will come in 2019: the key points
The fusion of our different communication tools in a revamped "carrouje" in order to optimize our exchanges: better promote more actors in the Gallo world and open to the world of other languages;


The implementation of a stronger structure for our external projects activity, so that we launch more partnerships;


The launch of new areas in the current space "Dictionaries of the Academy of Gallo" which may be transformed;


The continutions of our normal production of course! We will still enrich our Little Library and pursue our IT development of major additions to existing tools and of new ones. Our publication schedule will have to slow down a little to accommodate the complex projects we have in mind!


And of course, we will always have room to accommodate anyone who wishes to promote Gallo, or even their own language! We are keen to welcome small language defenders as long as they share our values !


This way, we at the Academy of Gallo, are showing our commitment and solidarity with the other minority languages in a concrete way, friendly and constraint-free!